Sketching people: from pencil line to color
If you always wanted to draw people but didn't know where to start, this class is for you. I will show you my technique for quickly capturing human form on paper and create fun, unique and expressive sketches of people. 
Watercolor Pet Portraits with Fantasy Palette
In this class we will learn how to capture our favorite animals with watercolor on paper. This class however will not be about mixing the exact shades of skin and fur and rendering every hair and whisker. We will be using "random" colors and painting very loosely and expressively.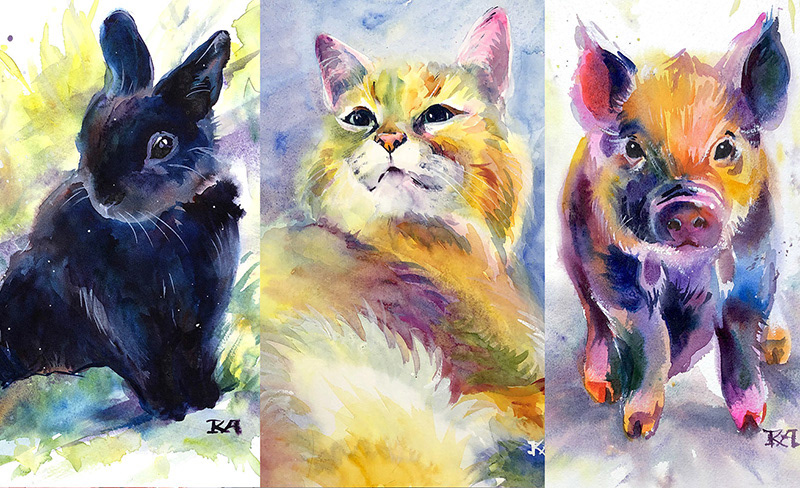 Sketching Faces: Form, Proportions and Color​​​​​​​
Human beings are one of the most popular and fun subjects in art, but a lot of artists struggle when working on faces. Sketching faces is not hard with a good understanding of some basic principles. In this class we will talk about some methods of quickly capturing the basic structure of the human face. We'll discuss each individual feature, and review the general principles of showing light and shadow on a face. The second part of the class will be dedicated to color: the instructor will present two methods of showing skin and hair with watercolors, as well as using mixed media to capture models within the time limits of a quick sketch.​​​​​​​

 
Painting Flowers with Watercolor and Gouache
Watercolor is the perfect medium for painting flowers, but it can be hard to control while preserving white and light areas and defining edges. If you find painting complex floral forms with watercolor challenging, in this class we will learn old masters' approach to painting with watercolor. We will talk about the method of incorporating body color into our paintings, i.e. combining watercolors with artist gouache, as did such painters as John S. Sargent, Winslow Homer and J.M.W. Turner. We will discuss the differences and similarities between these two mediums, as well as technical aspects of painting with both. The instructor's demos will illustrate the process of working on several floral compositions.